Purpose of this part (bin spacer) is to equal the 7,8 & 10 bins with the 9 bin + switch.
Simply hang over the bin assembly, takes seconds to install, a few minutes to make.
I made these using lane oil jugs and old gutter clamps.
Hot glue didn't last long holding plastic to bracket so I switched to rivets.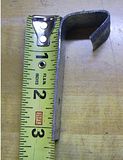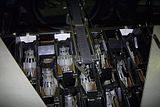 Vernie